The wonderland of Australia is full of hidden gems, kangaroos, natural wonders, deserts, and endless tourist attractions. Being one of the biggest countries in the world, it definitely thrills the spirit of wanderlust. Well, who wouldn't want to stroll around a country with 6 provinces and ten federal territories; an abundance of places to see and visit. The tourist activities range from bushwalking, camping, surf on beaches, to ferry and train rides. You don't need any more luck than stepping in the Lucky Country, yes, Lucky Country is how the natives call their country.
The first time to Australia would leave you mouth-opened, and surely as many times as you come there you will encounter new things and experience unmeet feelings. Its neutral beauty is represented by Pinnacles, Lake Hillier, Ningaloo Reef, Litchfield National Park, Uluru, and Kaat Tjuta, to mention a few. The journey to Australia will cost you a fortune, especially if you're going with the attitude of whatever happens I'll be able to afford it. The truth is that every good thing comes with a cost, even the good experiences as a tourist will empty your wallet. The aim of this article is to show you what places are worth visiting and which are some of the tricks to have a budget-friendly trip.
Places to Visit in Country
Sydney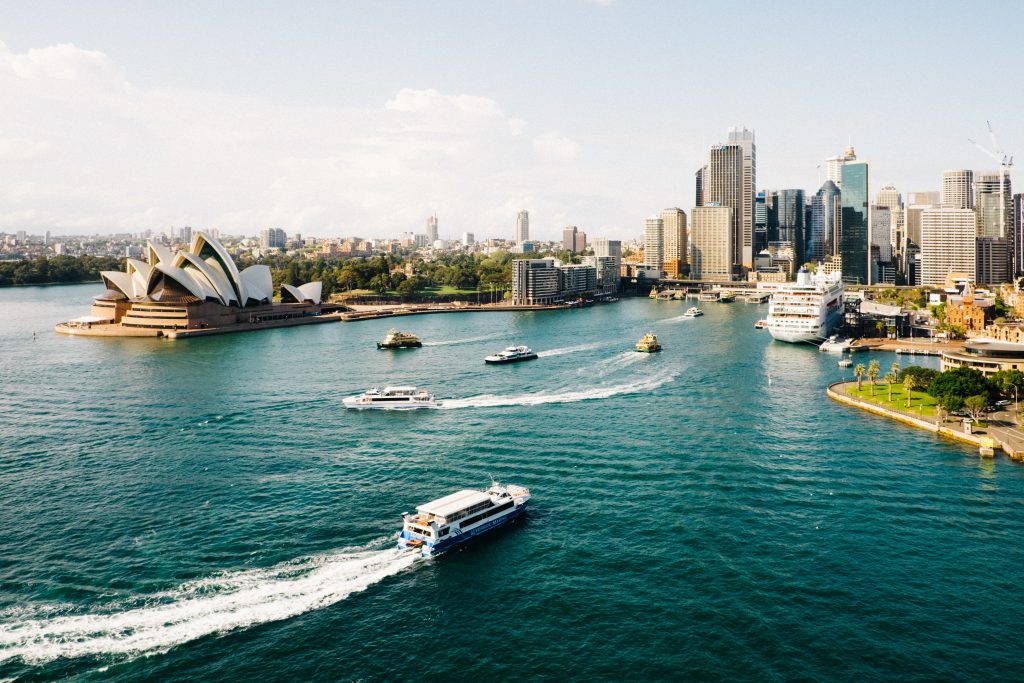 Two of the strongest characteristics of Australia are the highly developed infrastructure and the satisfying level of urbanization, and the city of Sydney is the main ambassador of it. Sydney, the capital of New South Wales state is surrounded by national parks and serves as a convenient location for exploring Australia's many natural landscapes. Whether conquering the heights of the Harbour Bridge or exploring the natural tourist sites in Sydney, it keeps tourists coming back for more. A list of significant symbols is presented all around Sydney, in the form of religious buildings, cultural institutions, natural attractions, as well as distinguished animals. Some beaches of Sydney are irreplaceable and absolutely worth visiting, Bondi Beach and Manly Beach are just a few of them. The Sydney Opera House, located in Sydney's Central Business District is the most appreciated building in the rank of other national treasures. On the other hand, St. Mary's Cathedral will never not be an eye-catching sight.
Melbourne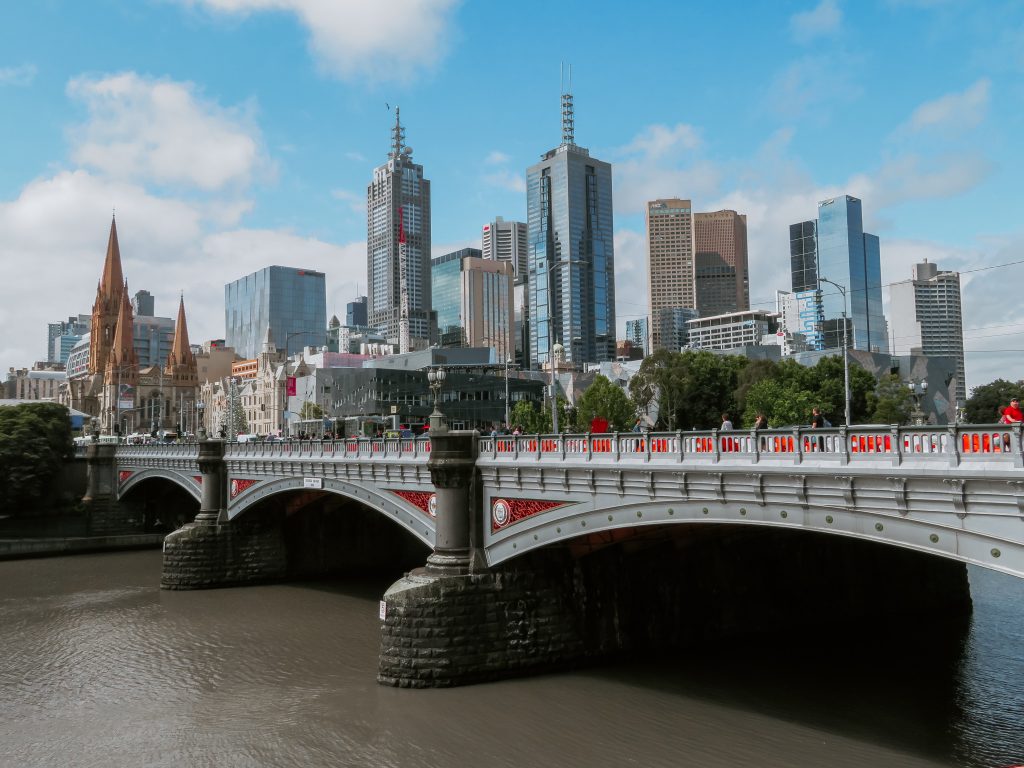 Melbourne is a metropolitan city on the shore of Australia, interestingly offering some of the best cultural assets of the country. Royal Exhibition Building, Federation Square, National Gallery of Victoria, Captain Cook's Cottage, and Arts Centre Melbourne are must-visit attractions for all types of tourists. As continental as it may seem, Melbourne on the appearance of the buildings and infrastructure gives European vibes. This city is quite lively, and you will never find enough time to enjoy the offered tickets to stunning landmarks. The magic of Melbourne can be found at the simplest corners of the city, its cafes and restaurants, shops, and art galleries will simply enhance your journey. Melbourne International Film Festival runs in the middle of summer, so if your at Melbourne at this time of the year, book the tickets and be ready to enjoy the view. Explore Hosier Lane, the hub of local street art and culture which is which highlights some of the most beautiful street arts along all the roads.
Cairns
Located in the tropical Far North Queensland, Cairns stans tall among the other cities of Australia which attract the largest number of tourists. The tropical aspects and the welcoming vibes of Cairns are what make this city the main destination for summer holidays. The palm-lined streets and abundance of tour operators in town are all seasonings that make the flavor of tropical much better. Visiting the Great barrier reef will make you question this earth, whether it is the real paradise. A voyage to the Great Barrier Riff designated as a World Heritage Site is one of Australia's biggest assets. Fans of the golden hour will never want to lose the chance of being at Cairns Esplanade during the sunset. The Green Island offers a plethora of sea activities, starting from surfing, swimming, diving, scuba diving to sailing, snorkeling, down to rowing. Nestled in the thick rain forest, a 15-minute drive from Cairns, the Tjapukai Native Culture Park provides enhanced insights into one of the world's oldest traditions.
Brisbane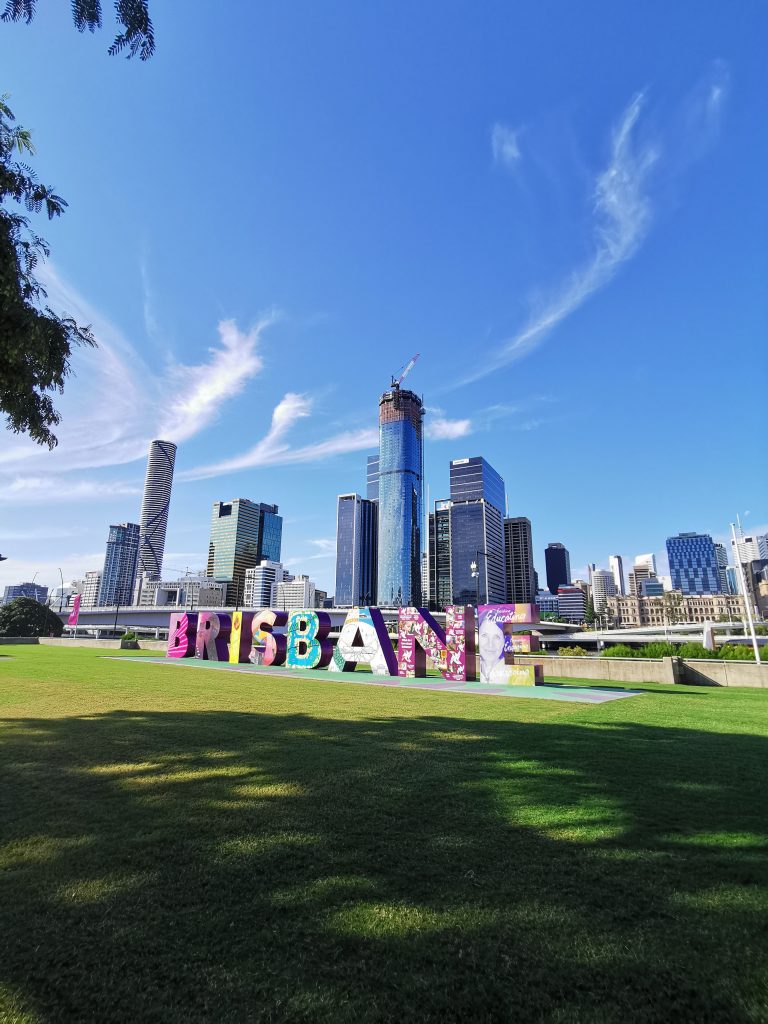 Brisbane occupies the first geographical position in terms of receiving the most sunlight, and the appealing climate just adds more to making this city a perfect travel destination. With these two vital components, you can take part in a large number of outdoor activities. As the third biggest city in Australia, it is more than possible to run out of time and not penetrate in all the charming landmarks of the city. Quite an ambient-friendly destination that falls into the category of the green zone, Brisbane leaves remarkable imprints with its bike and walking paths which reverberate throughout the city. The Lone Pine Koala Sanctuary has over 70 types of Australian animals, offering visitors the chance to giggle with kookaburras and watch flocks of multicolored rainbow lorikeets descend during feeding time, not to forget the pleasure of holding a koala that this park tenders. Lastly, any tourist should know that a river cruise is one of the greatest ways to explore the sites in Brisbane.
Adelaide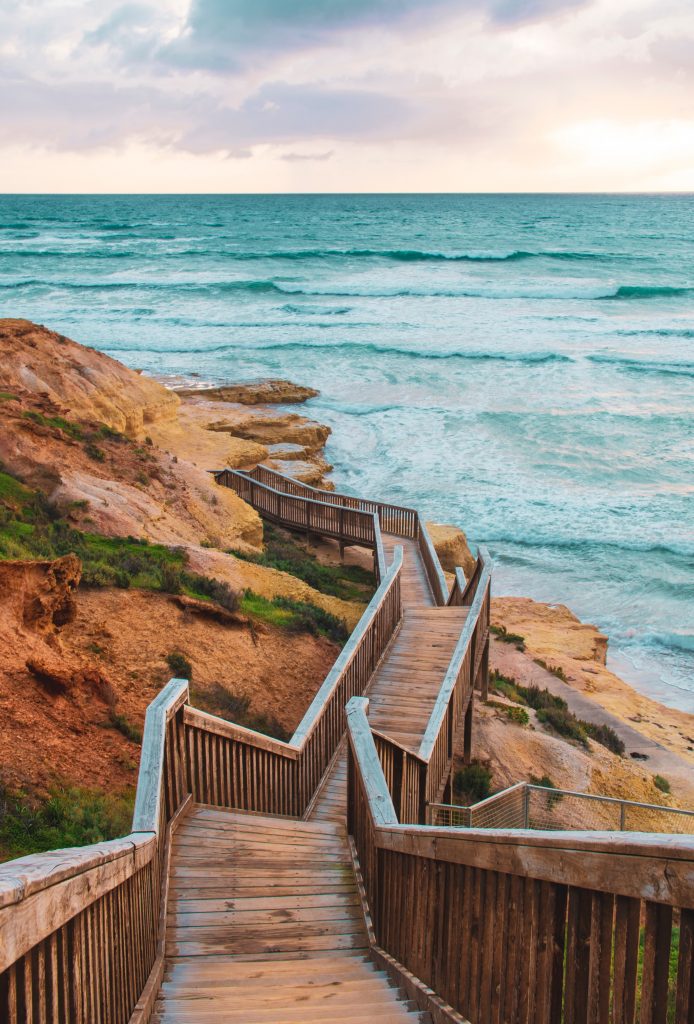 Characterized by rich biodiversity and multicultural environments, Adelaide is a lively city of south Australia that offers a plethora of attractions for tourists. Keen on Christian architecture, travelers are about to step into a city that contains the largest number of churches and each of them is captivating. Adelaide is a fantastic location for beautiful landscape, with plenty of easily accessible natural attractions inside the city limits and a stack of regional beauty around it. The Rundle Mall is an ideal place to look up for shopping malls at the same time contemplating the amazing exterior of the buildings. The Museum of Botany is also a noteworthy visit. Established in 1881, it was called "the last-minute colonial museum in the world" and many of the objects on the show may be still be enjoyed. Glenelg is a marine resort in the Adelaide area and tourists can freely enter from the town center of Adelaide or from the airport of Adelaide.
Popular Attractions and Landmarks
This huge country is filled with numberless landmarks and sightseeings. In case you haven't finalized your bucket list, then these tourist attractions will definitely make your list more meaningful:
Sydney Opera House
Great Barrier Reef
Uluru
Bondi Beach
Sydney Harbour Bridge
Great Ocean Road
Kakadu National Park
National Gallery of Victoria
Targo Zoo Sydney
Royal Botanic Garden Sydney
Art Gallery of New South Wales
Warner Bros. Movie World
MONA
Hamilton Island
Lone Pine Koala Sanctuary
Kings Park and Botanic Garden
Sea World
Sydney Tower Eye
Lake Hillier
Kings Canyon Carpark
Museum of Contemporary Art Australia
Accommodation Options: Where to Stay?
Before deciding to travel to Australia it is important to choose the most suitable accommodation not only in terms of affording it but also comfortably spending the nights. There shouldn't be any worries in this regard, since the accommodation options are endless and nearly all of them will assure you a good sleep. Below you will find accommodations that fall into various categories, making it easier for you to investigate which one fits your ambitions.
Hostels
One of the most affordable lodging options is this one, more than commonly known it is budget-friendly and engaging. As in other countries, even in Australia hostels are prone to host young groups of people. However, people of any age are also welcomed. To spend a night in a hostel means that you will share all the possible types of equipment and rooms, counting bathrooms, kitchen, lounge room, to mention the known ones. The average cost for hostel accommodation is around AUD 23 (USD 17) per person.
Bed and Breakfast
A Bed and Breakfast is usually a tiny low establishment that gives overnight and weekend accommodation that has breakfast. If you wish to spoil yourself by spending time with such treatment then a B&B is a wonderful choice. Bed and Breakfast are a part of a personal home that features a small number of rooms useful for tenants. The space can either be within the house or on another part of the property. The price of this sort of accommodation starts from AUD 70 up to AUD 240 (USD 50 up to USD 175) per night.
Motels
In Australia, this type of accommodation can be encountered with two names: Motels and Motels Inns which all equal to the same one. Motels offer you rooms that can contain a single bed, double or family rooms. In Australia, there are several motel chains, including Country Comfort, Best Western and the Budget Motel Chain. Usually, they may be found if you come to a town because they are on the major road to find them quickly. The typical cost per night in a motel will range from AUD 45 to AUD 105 ( ~ USD 35 to USD 80).
Apartments and House
For a more quiet and private stay in Australia apartments and houses are the ones to go for. Such accommodations will provide you with a complete kitchen and the necessary appliances to cook, as well as other amenities of a house such as a washer and a dryer, wifi, TV, bathroom essentials, coffee maker, and so on. Overall, apartments and houses are more clean, comfy, and thoroughly decorated, which makes the stay even more enjoyable. The price for this type of lodgings tends to be slightly more expensive than the above-mentioned housing, it ranges from AUD 160 to AUD 460 ( ~ USD 115 to USD 335).
Typical Costs: How Much Does a Trip to Australia Cost?
Generally, the cost of a trip depends on many aspects and there are a lot of questions that should be answered in order to give a proper answer. Bigger than the continent of Europe, Australia will require you an abundance amount of money no matter what types of activities you'd choose to engage in or the places you are about to visit. If you prefer to stay in the center of a city, spending nights in a luxurious hotel and wander around tourist attractions in an aristocratic manner then you should be prepared to pay things above the average. However, there are many other choices for a contentful trip to Australia, as far as you have a clue on what to spend your money. The table below will guide you on the average budget needed depending on the time planned to spend in Australia and the number of people coming with you.
| | | | |
| --- | --- | --- | --- |
| Time/Budget | Solo Budget | Couple Budget | Family Budget |
| One Night | AUD 190 (~USD 140) | AUD 380 (~USD 270) | AUD 760 (~USD 550) |
| One Week | AUD 1,330 (~USD 970) | AUD 2,660 (~USD 1,940) | AUD 5,320 (~USD 3,870) |
| One Month | AUD 5,320 (~USD 3,870) | AUD 10,640 (~USD 7,740) | AUD 21,280 (~USD 15,480) |
Money-Saving Tips: Is It Possible to Make This a Budget-Friendly Trip?
It is possible as you get to know some of these helpful tips in this section. In Australia, you definitely would like to try as many new things as possible, but there is only one way to do so and that is by learning tricks on how to wisely use your travel money, and on what to not use them. Take a look at those money-saving tips, many tourists have found it useful.
Use Public Transport. One of the most friendly-pocket ways to save money is by using public transportation insead of taxis or renting cars.As a tourists you will be amazed by buses since they are a frequent and cost-effective transit system in Australia, at the same time beneficial in the aspect of the finances.
Sleep in Hostels. During travel time accomodation tend to suck the money from your wallet, so picking hostels instead of hotels or private houses will save you a fortune. Thus allowing you to use it for other occasions which will remarkably change the road of your journey.
Visit Places With Free Entry. In Australia, you can discover a lot of places that do not ask you for money to visit and contemplate their beauty. Unlike any other country in the world, here, in Australia you will fin out that museums and art galleries have free entrance. In addition, beaches are always a good option to enjoy your trip in an economic-manner.
Get Health Insurance. Without health insurance, you are at a risk of spending tons of money on medical treatment or visits to a doctor. That's why you should get health insurance and use it as a strong weapon to protect your pocket as well as having a rescue plan in cases of inconvenience.
How to Get Around?
There are many ways of visiting Australia, starting of by plane as the most comprehensive option of covering parts of Aussie in the flesh of the light. Buses, cars, and trains as the most commonly know methods of transportation will offer you a reasonably priced journey. If you are a peripatetic person, meaning you want to walk almost everywhere or travel around then get on your foot because you can easily find paths to travel in the aimed destinations.
Travel by Plane
Deciding to travel by plane will surely cost you much more in comparison to other sorts of transportation, but it will save your time and deliver at a much faster pace. Australia's domestic airlines, including Qantas, Virgin Australia, Jetstar, and Rex, serve all state and regional cities and make transfers from renowned Australian destinations in a convenient manner.
Travel by Train
Besides the benefit of being affordable, travel by train also brings a time of relaxation and comfort. The Ghan and Indian Pacific trains run across the mainland and offer comfort and nostalgic romanticism on stunning rides. The Indian Pacific travels to Broken Hill, the towns of Adelaides, Kalgoorlie, Sydney, and Perth, the famed Ghan journeys to Australia's Red Center, and the tropical Top End between Adelaide and Darwin. Clearly, the train system in Australia covers all the possible provinces and territories.
Travel by Bus
Busses are one of Australia's most prevalent and cost-effective modes of transportation. Most of these services can be operated easily via a reusable smart card, but tickets can be purchased directly from bus drivers in several regional towns and towns. Greyhound provides hop-on, hop-off passes on popular routes, brief passes, and flexible travel cards depending on the number of kilometers. Greyhound Australia offers many passes, based on your specific needs. The Australia Pass allows you to travel 7, 10, and 15 days in 30 days or 21 days in 60 days.
Travel by Car
The endless roads of Australia are perfect for traveling by car, it offers a huge network of well-kept highways and some of the world's most picturesque road journeys. In case you're coming in your own car in Australia you can definitely create your own road trip or simply rely on suggested roads and itineraries from websites on the internet. On the other hand, you can find car rentals companies around airports and central cities of Australia. For camping along the trip, think about renting a caravan or camping car from suppliers such as Apollo, Spaceship Rentals and Travelers Car Barns.
When to Go?
This is a hundred-dollar question since it has a lot of aspects that should be considered. Firstly, it is important to know what are the preferred activities that you want to engage in, if you're up to sunbathing on Australian beaches then the season of summer is the accurate one. On the other hand, snowy activities will not be enjoyable in other seasons except winter. Not to forget the travel budget, which is a vital component of the Australian trip. Generally speaking, spring and autumn are the most ideal seasons to wander around the country. The weather from September to November and March to May is quite appropriate for almost any kind of movement. Moreover, the tourist attractions in Australia during this year time tend to be modestly enjoyable due to the lesser number of tourists.
If you are down to a hot and boiling holiday consider taking off in December and land back at the end of February because this is the period of the summer season. Plenty of beaches in Australia, such as Whitehaven Beach, Turquoise Bay, Cossies Beach, Noosa Main Beach, and many others will have you hanging for the rest of the summer. Tasmania is a highly appreciated destination during this season, you can hike the best trails in Tasmania. At the end of the year you can celebrate Christmas like a typical Australian with a beach BBQ, or visit Sydney for its famous fireworks spectacular across the harbor.
In winter, the average temperature ranges from 15 °C to26 °C, with a maximum temperature of 30 °C at times, so traveling to Australia during this season will make you shake a bit, but it will be worth every milestone. At Kosciusko National Park you can learn how to ski, with a bonus of falling multiple times. Husky sledding is one of the best experiences that you can have while staying in Australia during this season. In addition, the Dark MOFO festival takes place at Hobart's Museum of Old and New Art which is all about ancient beliefs, myths, and mythology, the phenomenon of mortality and natality.
Famous Australian Dishes: Foods to Try
There are many artists in Australia, and we're not talking about street artists here. The art of cooking is represented in many Australian traditional foods. To fully enjoy your trip to this enormous country make sure to taste these delicious dishes:
Meat Pies
Roasted Lamb
Barramundi
Pumpkin Soup
Chicken Parmigiana
Barbecued Sangs
Pavlova
Lamingtons
Vegemite on Toast
Witchetty Grub
Fairy Bread
Fish and Chips
How to Stay Safe?
Famous for many landmarks and natural treasures, Australia is a fascinating place to travel around without worrying about dangerous cases. Nonetheless, that doesn't mean that you don't have to be aware of safety measurements.
Take a look at these tips for a smooth and safe trip in Australia:
Wear SPF
As the Australian famous saying goes "slip, slop, slap" which it related to protecting your body and head from the harmful rays of ultraviolet light, it is important not to forget your SPF while wandering around Australia. Aussies famous saying literally expands to "slip on a shirt, slop on sunscreen and slap on a hat", a perfect combination of safety measures.
Swim among the flags of Red & Yellow
Beaches in Australia have their red and yellow flags which are indicators of the dangerous distances of swimming. A unique yellow flag warns of potential dangers and a red flag signifies that the beach is closed owing to overly unsafe circumstances for swimming. Lifeguards on beaches are also on duty so there is another precaution of possible life danger.
Drive carefully
When hitting the road to Australia and its numberless travel destinations it is important to bear in mind that there are many factors that can make your journey difficult. Starting off with the high temperatures, long distances from one place to another, and unsealed roads which are faced in more distant travel destinations. Therefore, driving smartly will benefit and save you from undesirable experiences.
How to Book This Trip?
The best way to book your trip to Australia is by checking the Australia vacation packages, then estimating the searched ones, their prices, and the most convenient season to get the most of that particular place. Sydney, as one of the highly suggested travel destinations with a lot of charismatic features such as diverse landscapes, sparkling waters and cosmopolitan urban life gives a fulfilling experience during spring and autumn. The minimum recommended sightseeing time in Australia is one week to ten days, as distances are huge, and jet lag can take a few days. The early reservation allows you to get to know your location as much as possible before you go there so that you won't lose any worthwhile time trying to figure out while you're there. So Make sure to book your trip at least 3 to 4 months in advance.
Best places to book your trip to Australia:
10Travlr
Wotif
HotelsCombined
Agoda
Lastminute.com.au
Booking.com
Hotels.com
Oaks Hotels & Resorts
Packing List and Essentials
Traveling to Down Under comes with an exhaustive packing list and bag full of travel essentials. Knowing what to wear and what to get while wandering travel destinations will ultimately make your trip much more enjoyable since you have packed all the necessities. The packing list can vary depending on what time of the year you are traveling.
Packing for Summer
Reusable Water Bottle
Sunglasses
Sunscreen
Sun Hat
Water Shoes
Bathing Suits
T-shirts and Shorts
Hiking Shoes
Packing for Winter
Scarf
Gloves
Thermals
Layers
Sneakers
Woolly Blouses
Warm Jacket
Jeans
Socks
Boots
Fun Facts About Australia
Australians live mostly on the coast, as they do not see life in deserts.
Tasmania boasts the world's cleanest air.
The Great Barrier Reef is the world's largest greenhouse system.
There are more than 60 wine areas across Australia.
In Australia, you can find the largest sand island in the world which is Fraser Island.
The longest straight train stretch in the world is the Pacific train.
The biggest war monument in the world is the Great Ocean Road.