Lying in the western part of Europe, Germany will fascinate you with endless tourist attractions. Its rich history, which has served to create many cultural attractions, will definitely make you pack your belongings and leave your home country immediately. The travel experience would not be rewarding without enjoying the sights from fortifications found in plenty of cities in Germany, while also eating tasty pieces of bread and sausages.
There isn't a single lie about the distinguished works of art and architecture represented in every corner of this country, in fact, they are so marvelous they have turned into myths. Fasten your seat belt quite firmly because the museums that are awaiting will leave a remarkable impression you'd probably tell the others with much enthusiasm. As large as it is, Germany will acquire you to make a list of things you should see, the budget you should have, the time you should visit, and many other aspects of traveling.
Places to Visit in Germany
Berlin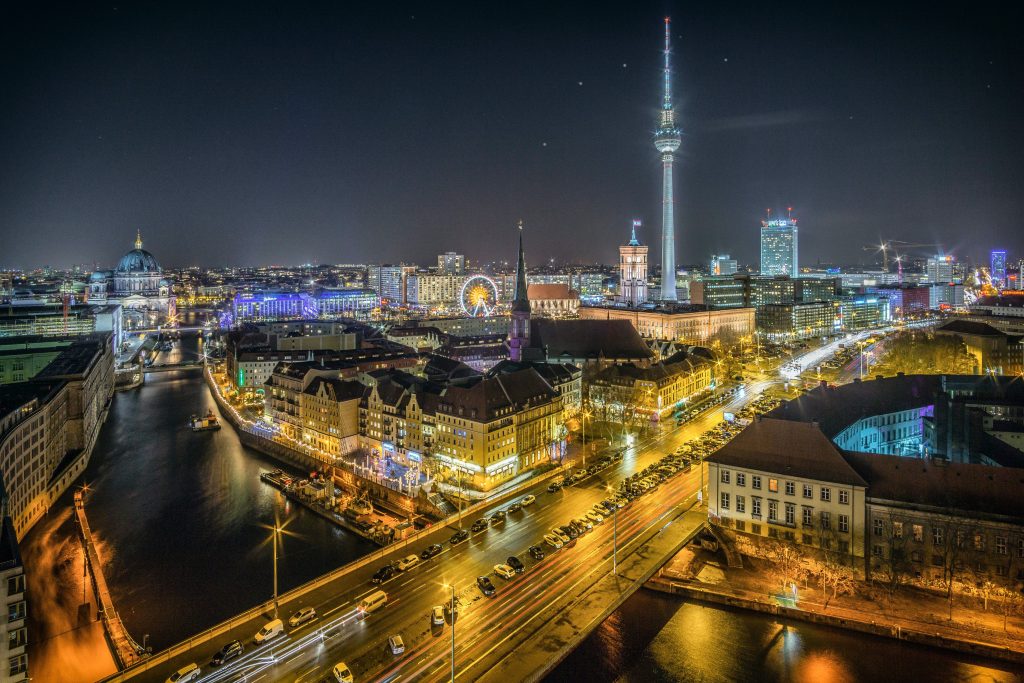 In each country that you visit, the capital city will always stand tall amongst the others. Well, it is the capital of a country for a lot of reasons. Likely, Berlin is a treasure and at the same time a must-visit city of Germany. Some of the best museums, such as the Pergamon Museum, Neues Museum, Altes Museum, and Mercedes-Benz Museum make Germany a worth visiting destination. Along with many characteristics, the Berlin Cathedral or the Evangelical Supreme Parish should be the next pinned location on your map. The Brandenburg Gate is no exception, known as a symbol of peace and unity, it leaves a remarkable memory in the mind of every tourist. The Holocaust Memorial and the Berlin Wall do call the happenings of the 20th century and such touristic attractions are free as oxygen. If you're staying long enough, make sure to step into the Berliner Philharmonie.
Hamburg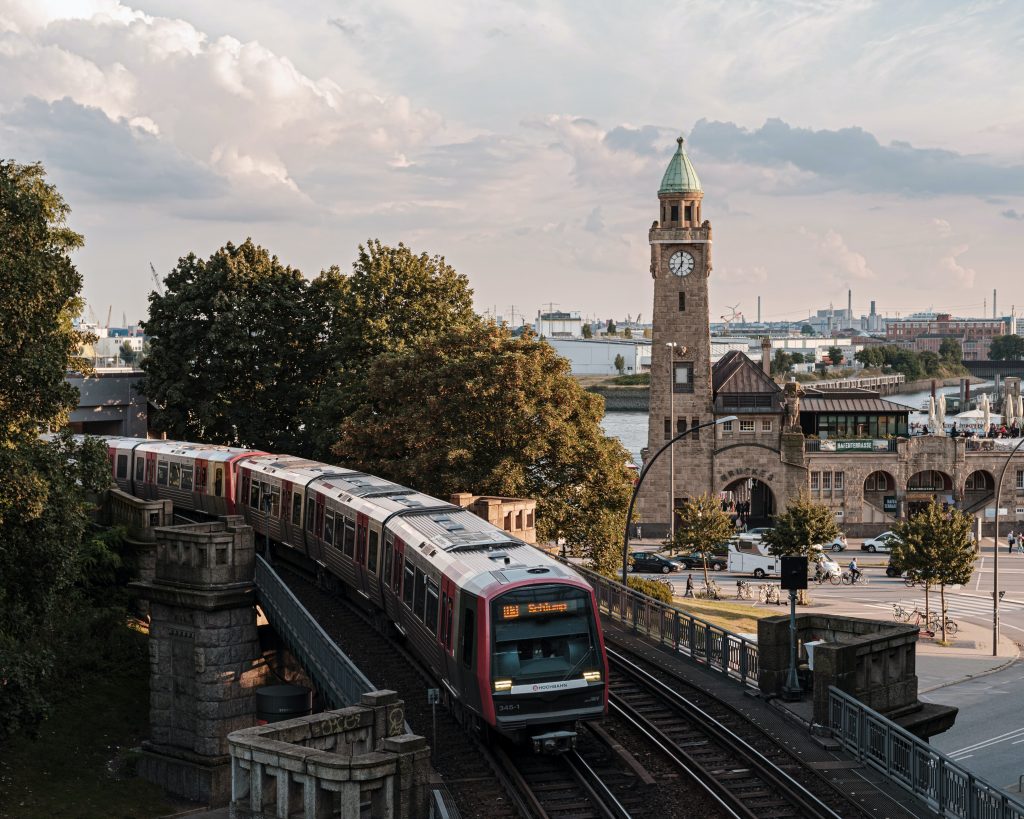 Quite a hidden gem in German land, Hamburg has plenty of tourist destinations to offer. One of the most distinguished features of this country is the Port of Hamburg, which is located on the river Elbe. As modern as it is, Hamburg organizes festivals almost every week, thus leaving tourists to experience the lively spirit of the city and its people. A model train museum called Miniatur Wunderland is the most popular tourist attraction not only in Hamburg but also in Germany. In case you didn't know, Hamburg has the largest number of bridges on the European spectrum. Kohlbrandbrucke, Brooksbrucke, Lombardsbruecke, and Trostbrucke are just a few of the bridges that assure tourists excellent sights. Hamburg is amazing in each season, but when it comes to Christmas, you will be left speechless. There are more than 20 Christmas markets all around Hamburg and each of them is unique in its own way.
Munich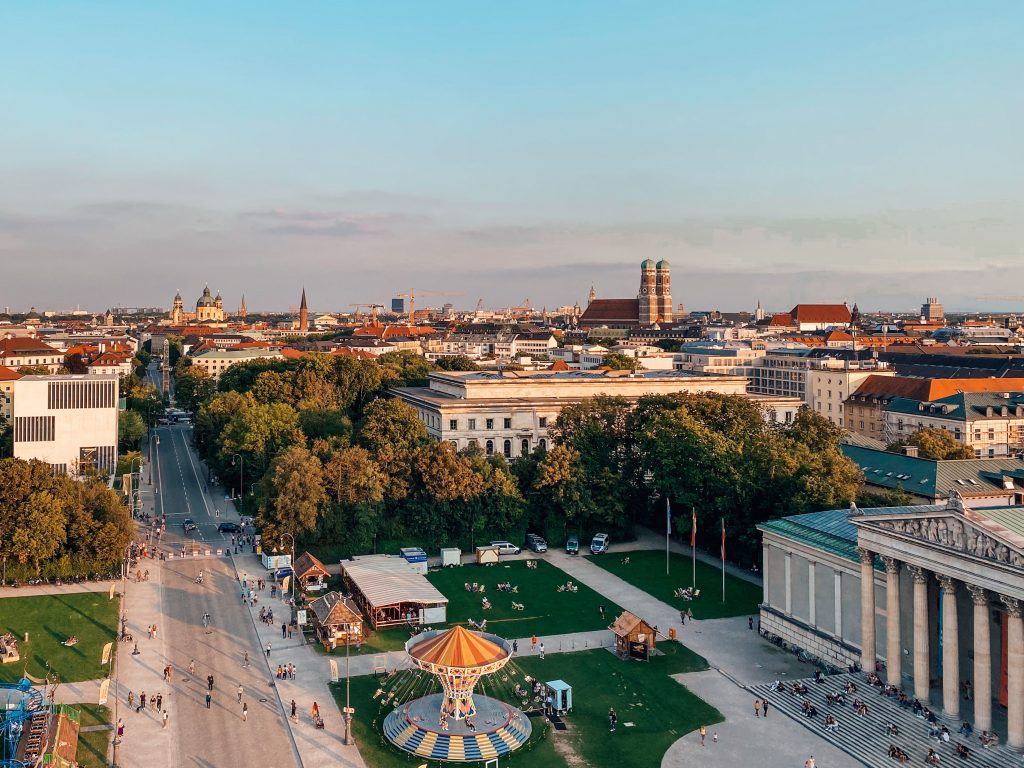 The free state of Bavaria, which has Munich in its central axis, attracts the largest numbers of tourists throughout the year. Being the capital of Bavaria, this city has preserved many old buildings and many historical ones. There are many elements that make Munich worth the road. Firstly, the Glockenspiel performance, which takes part from March to October at the central Marienplatz Square, gives you full contentment and unforgettable moments. The golden Theatinerkirche which stands 66 meters tall, is a 17th-century church with fascinating architecture inside and out. Containing multiple parks and natural attractions, Munich is an ideal place to enjoy nature and fresh air. The Englischer Garten is one of the most enormous parks in Germany, so it caters to travelers with enough space to also bike around.
Cologne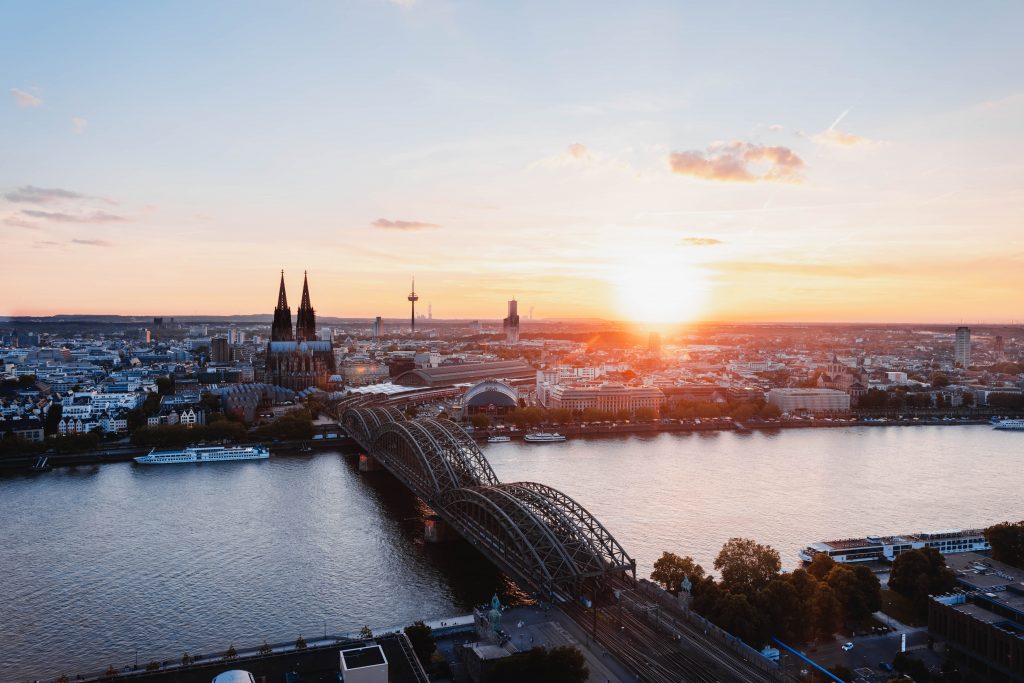 The city of Cologne or Köln is one of the ancient cities in Germany, dating back to 38BC. Many archaeological relics and traces from the Romans, as well as the name – Cologne – which is an evolution of the name Colonia Claudia Ara Agrippinensium leave travelers who are interested in history and archaeology awestruck and blown away. The Cathedral of Cologne is inevitably gorgeous, and also, the heart of the city. There is no need to tell you that this religious building is a must-see since the rail station is nearly attached to this church building. The old town along with the Rhine river will enhance your experience and will definitely have you daydreaming. In this part of the city, you'll want to visit each museum and art gallery. The nearby Ludwig Museum exhibits 20th-century art, including numerous Picasso masterpieces, and the Romano-Germanic Museum holds Roman antiquities. Obviously, there are several places to see, so conquer the city as the Romans did.
Frankfurt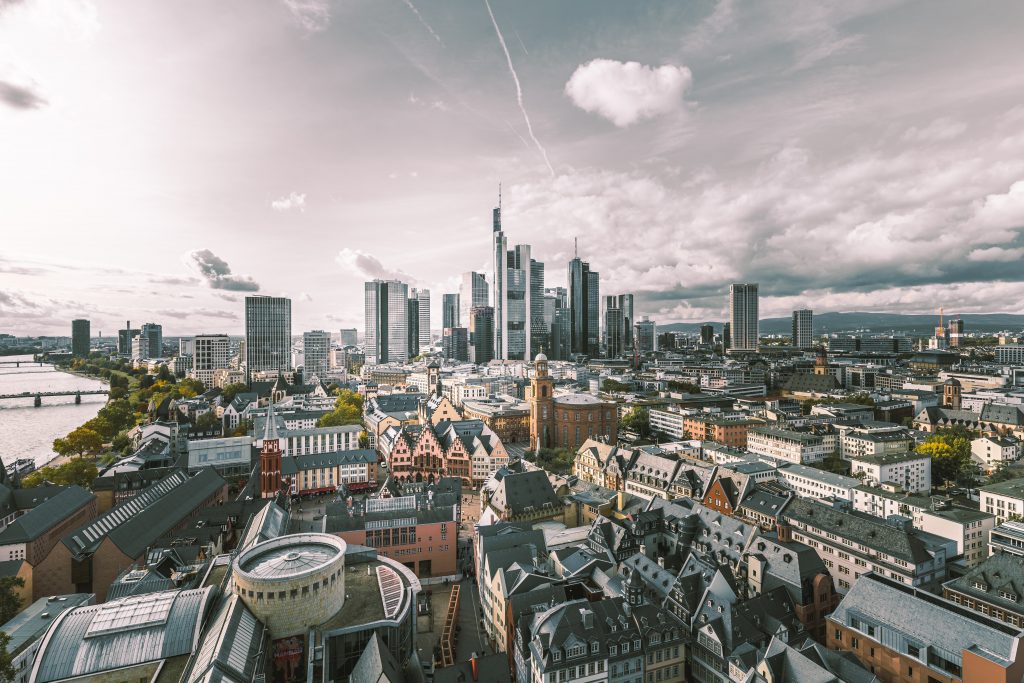 Upon visiting Frankfurt, you'll definitely land at the center of the economy and commerce of Europe. The European Central Bank which comprises two twin-tower skyscrapers enables tourists to enjoy the city from above, and contemplate the inside of the building. The enormous international airport of Frankfurt is not the only factor that brings the largest number of tourists, there is definitely more to this. Not only can you learn about Frankfurt's great heritage, but there are also innumerable fascinating insights and startling moments around almost every angle. The Goethe House Museum is no escape, the real house of Johann Wolfgang von Goethe where you can find a magnificent collection of Goethe's era paintings. Moreover, Frankfurt features a vibrant city center filled with attractions such as the church that housed Germany's first democratic parliament. Römerberg will make you visit again and again, represented by astonishing medieval houses, historical administrative buildings, and a church, you will be left with a sweet taste for the rest of your life.
Popular Attractions and Landmarks
Having a strong background in natural attractions such as rivers, caves, mountains, rainforest, and beaches, Germany holds a firm and solid position on attracting the largest number of tourists from all over the world. There are many landmarks and beautiful attractions that you must visit, some of which you can find listed just below.
Brandenburg Gate, Berlin
Neuschwanstein Castle, Füssen
Reichstag Building
Cologne Cathedral
East Side Gallery
Memorial to the Murdered Jews of Europe
Berlin Cathedral
Museum Island
Pergamonmuseum
Europa-Park
Checkpoint Charlie
English Garden
Berlin Zoological Garden
Hohenzollern Castle
Charlottenburg Palace
Minch Residenz
Frauenkirche Dresden
Sylt Beach
Alte Nationalgalerie
German Historical Museum
Accommodation Options: Where to Stay?
As large as it is, Germany offers various types of accommodation, depending on the number of people, their budget and many other factors. As a tourist, it is of great importance to have a comfortable place to spend the nights. There are numerous types of accommodation accessible in the housing market, so choosing the one that is best for you and your family can help you have a fulfilling travel experience.
Here are some of the most suitable types of accommodation found in Germany:
Apartments
Such housing is more than suggested for tourists who want to spend their time in big cities of Germany, like Berlin, Hamburg, Cologne, etc. Although the costs may differ from city to city, the average cost for an apartment ranges from €300 to €800 per month for a shared room and from €500 to €1,200 for a one-bedroom home. The average rental price for a one-bedroom flat is €700 per month.
Hotels
Hotels are usually a smart option for getting the most out of your trip to Germany. If you are planning an expedition in Germany, you can expect to have a large range of hotel options. There are great hotels throughout the country where guests can truly relax at a reasonable price. Overall, in a medium luxury hotel, a couple can spend from €60 to €120 per night.
Rooms and Wohngemeinschaften
If you are coming to Germany to study, work, or look for employment, you would surely want to save money as well as make new friends. That's what this type of housing is all about. In Germany, sharing rooms and houses is a common choice among travelers. The cost of a WG or a shared apartment varies from €360 to €500 per month. Higher prices are found in cities such as Frankfurt, Munich, and Stuttgart.
Camping
As unbelievable as it may sound, it is true that Germany owns more than 2,500 campgrounds nationwide. The majority of its campgrounds are found near lakes and mountains. There are a lot of things to consider before camping, one must make sure that the land you are staying on isn't private property since it can end up in penalty for trespassing. In Europe, Germany holds the lowest camping prices, starting from €30.
Typical Costs: How Much Does a Trip to Germany Cost?
Upon traveling to any country it is crucial to have an arranged budget. Likewise, Germany as the central country in Europe will make you mobilize and be mindful of any kind of trip, regardless of the duration. Three city-states and around 79 cities offer an abundance of attractions. Each and every part of Germany will have unique features, will differ economically, and consequently affect your pockets, in different ways. Experiencing the beauty of this country will surely come with a cost. The deal is to organize your trip in a way that you know where you want to stay, what is the chosen accommodation, the activities you want to engage in, the type of vehicle for traveling, and places you want to see. For instance, if you want to join Munich's Oktoberfest, or visit top museums such as Neues Museum, Pergamonmuseum, Deutsches Museum, then be ready to add some more to your wallet.
Here is a table with the needed budget regarding these categories:
| | | | |
| --- | --- | --- | --- |
| Time/Budget | Solo Budget | Couple Budget | Family Budget |
| One Night | €130 – €260 | €200 – €470 | €400 – €930 |
| One Week | €900 – €1,800 | €1,400 – €3,300 | €2,800 – €6,500 |
| One Month | €3,600 – €7,200 | €5,600 – €13,200 | €11,200 – €26,000 |
Money-Saving Tips: Is It Possible to Make This a Budget-Friendly Trip?
With a modest budget, a tourist can travel and experience the lively atmosphere of Germany at a high level. Even students can get the most of this country, so don't doubt the chance of making this trip budget-friendly. There are many places and activities that wouldn't require you to be a luxurious person in order to take part.
Everyone needs some tips on how to save some dimes and use them for more important occasions, so take a look at those money-saving tips:
Book your tickets in advance. Whether you're coming to Germany by airplane, bus or train, it is always better to reserve your tickets at least two months earlier. The prices of tickets tend to rise when you book them on the last day.
Cheap places to eat. As a tourist, you clearly are driven to spend money on museums, art galleries, historical attractions, festivals, and theaters, so make sure you are eating well but not necessarily in an expensive restaurant. Some of the cheap fast food places in Germany are Zum Schusterjungen, Scheers Schnitzel, Tiergartenquelle, and Curry61, among others.
Couchsurf. This type of accommodation not only saves you money but also increases the number of international friends. If you're an open person and an altruistic one, in terms of not minding details, then having to sleep on somebody's couch wouldn't be a problem. Instead, you will enjoy the road to sharing a lot more.
Health Insurance. Having health insurance while traveling to Germany is just like having your passport, which means it is more than necessary. The chances of needing medical assistance are quite high, so make sure you will have something to cover up your expenses and any possible medications.
How to Get Around?
The public transportation system in Germany is among the greatest in the world. It is quite convenient to live without having a car in any major German city or metropolitan area. Every German city has high-quality public transport networks such as buses, trams, or suburban/urban rails.
Rail Travel
The rail system in Germany is fast, safe, and covers the majority of tourist attractions. Costs may vary, especially if you plan to use public transportation for longer distances. Therefore, it is highly recommended to buy your tickets in advance as it's less expensive and more convenient than to consider the option of buying a last-minute ticket, which can be expensive. Saver Fare (Sparpreis) — prices for single-way tickets 19 euros for short trips in Germany. Prices start at €29 €49 for longer distances, €49 in second class for two persons traveling together and for three more people on the same tour for €20 each with the couple.
There are other alternatives if you are planning to save money by means of transportation. The options that are more low-cost when it comes to public transportation include group discount tickets which can save between 30% to 70% or federal states tickets, where you get an unlimited trip for the whole day. Lastly, a Happy Weekend ticket is a group ticket with a convenient price (approximately €44), where you get to enjoy the trip during weekend days.
Bus Travel
The German road network, which includes a broad and outstanding network, makes bus transportation widely available and often easily accessible. The buses are also an excellent way of traveling to many places while enjoying the view of the many landscapes of the country from the north to the Black Forest, and across the Riverlands and Alps. The most commonly visited places are in the major cities in Germany such as Berlin, Hamburg, Munich, Frankfurt, and many other cities.
Visiting closer cities or towns from the one where you are staying is a good option as you have regular bus services and the transportation is done in a few hours. For instance, a trip from Berlin to Dresden is only €5, whereas for a larger distance, such as from Berlin to Hamburg, the price is €10, and if the distance is extended such as from Berlin to Munich, the price increases to €25. The prices are higher or lower based on the distance cities share with one another.
Bike Travel
If you are passionate about cycling then Germany is the perfect place to experience unforgettable times as it offers endless cycling options in various places. Each of these bike tours lasts between 5-8 days and the majority of them include accommodation, meals, as well as additional services. Through these cycling tours, you will be given the chance to explore many great places. If you happen to be a person who loves nature then that will be an even better option for you as you will cross through mountains, lakes, and various natural wonders.
You should keep in mind that bike tours are done from Germany as a first location directed to other countries close to Germany such as to Austria, Switzerland, Luxemburg, Netherlands and to some other places, all based on your preferences. The costs of biking tours can be a little expensive based on the duration and the distance between the countries, ranging from €450 to €4,000.
When to Go?
While it depends on people's preferences, Germany is a place that can be visited during all four seasons. However, the months of May through September are ideal for visiting Germany since the weather is warmer, with temperatures ranging from the low to mid-20s degrees Celsius and the places are less crowded. Contrary to other months, during the summer season in Germany, cheap hotels are not easily available except the ones that are more expensive. Additionally, flight costs increase significantly and reach the highest prices of the year thus, you end up spending much more money during summer than during other seasons.
Shoulder Season
The shoulder season or else known as the season between spring and fall is preferable by the majority of people since booking hotels, tickets, and transportation costs are mainly inexpensive. Small crowds, decent weather, many incredible places to visit, and gatherings of tourists at different spots are some of the key reasons you should consider visiting Germany at this time.
Winter Season
If you are a person who enjoys Christmas and long museum hours, winter is just another season to be considered when visiting Germany. During Christmas in Germany, you get to experience the joy and the spirit of Christmas by wandering through famous Christmas markets. Some other festivals during this time are Carnival festivities (a.k.a. Fasnacht, Fasching, or Fasnet) which are held in Cologne and in smaller Catholic towns located in the south.
Famous German Dishes: Foods to Try
When visiting Germany, you should eat as many national and regional dishes as possible. Although each region of Germany does have its own specialty dishes and local food, there are certain gastronomic delights that people all around the country enjoy.
Here are some of the main traditional dishes to try in Germany:
Hamburger Labskaus.
Potato Fritters or Potato Pancakes.
Turnip Stew: The Winter Stew.
Pork Knuckle with Sauerkraut.
Veal Sausage: The Bavarian National Dish.
Stuffed Cabbage Filled with Millet.
How to Stay Safe?
Germany is considered a safe country, therefore there is no need to be worried about this regard. However, it's important to take safety measures when visiting Germany keeping in mind that sometimes even the most unexpected things can happen to anyone regardless of the country they are staying in.
Some safety tips when visiting Germany:
Remember the emergency numbers
When in danger the first thing to do is to call the emergency number. In Germany, the emergency number is 112 and it is available at any time without expenses. After dialing this number, you will immediately be connected to either the Ambulance or Fire Brigade. The number to call the police is 110.
Keep your belongings close
It is really important to be cautious when carrying around your belongings. Theft, especially, is a very common phenomenon in different countries and Germany is no different but slightly less dangerous. Therefore, it is suggested to take care of your belongings especially if you happen to be around public transports or near places that are overcrowded by people.
Be careful when using an ATM
Be extra careful when using the ATM machine by checking around or near you if people are strangely approaching in your direction. Since money is considered very important and is something thieves look forward to stealing, choose to become highly attentive and observe around until you are finished. It is recommended if possible, to have someone you know stay close to you when using an ATM machine since there is a lower chance for your money to be stolen as compared to being on your own.
How to Book This Trip?
To book a trip online is quite simple. Although, you have to go through some steps which will require commitment and focus. Before you read the listed steps for a successful booking, it is worth mentioning that the Online Travel Agencies are always on the go and save your time by having everything completed virtually.
Many websites will offer you to book the flight and accommodation instantly. On the other hand, you will need to book transportation and other activities on other OTAs. Websites destined for booking travel allow you to compare several travel products from various providers and to select the hotel, flight, and vehicle rental combo which is the best choice for you.
Here are the steps that should be taken to successfully book a trip:
First and foremost, you have to choose a booking website.
Check the deals and discounts before reservations, OTAs almost always provide good deals.
Compare deals by filling out the form on the home page, and decide which one is more worthy.
Investigate the feedback on hotels or accommodation. There is a long run and a lot of money to be sure you're spending it right.
Upon having decided on where you want to spend the nights and with what you want to travel, make sure you have gathered all the vital information for tourists. Such can be found on the city's website. It will drastically transform your vacation into a fantasy fulfilled.
Submit the credit card information once you have booked the trip.
Look up your email address for the confirmation description and make sure that every personal detail is put rightly.
Make a copy of all the bookings you have made, even the confirmation email, in this way you will not be deceived.
Here are some of the best sites to book your trip:
Holidaycheck.de
DB Bahn
Meinestadt.de
Lufthansa
Expedia.de
Ariberlin
Priceline
Fluege.de
Trivago.de
Packing List and Essentials
All tourists must plan and pack their belongings in order to travel with a lot of confidence and be ready for any weather condition. When you leave your native country, make sure you have these important goods in your luggage.
Some general things you will have to keep:
Mobilephone
Charger
Travel documents
Health insurance
Headphones
Power bank
Sunglasses
Hand sanitizer
Tissues
Toothpaste & toothbrush
During summer/spring you should store these clothes on your backpack:
Hat
Sunglasses
Underwear
Socks or Hiking Socks
Towel
Flip-Flops
Bathing Suit
Short-Sleeve Shirts
Hiking Shorts
Hiking Boots or Hiking Shoes
Jacket, Sweater, or Sweatshirt
The other two seasons will require you these sorts of items:
Moisturizer
Sunglasses
Sweatshirt
Waterproof Jacket and Pants
Thermal Underwear
Long-Sleeve Shirts
Snow Boots
Wool Socks
Gloves
Scarf
Hat
Winter Jacket
Winter Pants
Fun Facts About Germany
Here are some facts you might not know about Germany:
Hamburg is the only city in Europe that hosts the largest number of bridges.

Higher education is not only free for domestic students, but for international ones as well.
The German language is day by day conquering other world languages.
The European Central Bank is located in Frankfurt.
The Zoological Garden in Berlin is the biggest one in the world.
The budget of the European Union is mostly supported by the economy of Germany.