Canada is one of the most preferred travel destinations among internationals. There are many hidden gems and attractive places to visit, starting from Niagara Falls down to the Rocky Mountains. Having a varied population and a large intake of immigrants, Canada is the friendliest country in the world to people of all races and ethnicities. There are many astonishing things and activities that tourists can do, ranging from outdoor experiences to visiting cultural institutions. Depending on the location and season in which you visit Canada, your itinerary might be rather different. To have a fulfilling experience as a tourist in Canada we have created a tour guide with all the necessary information
Places to Visit in Canada
Toronto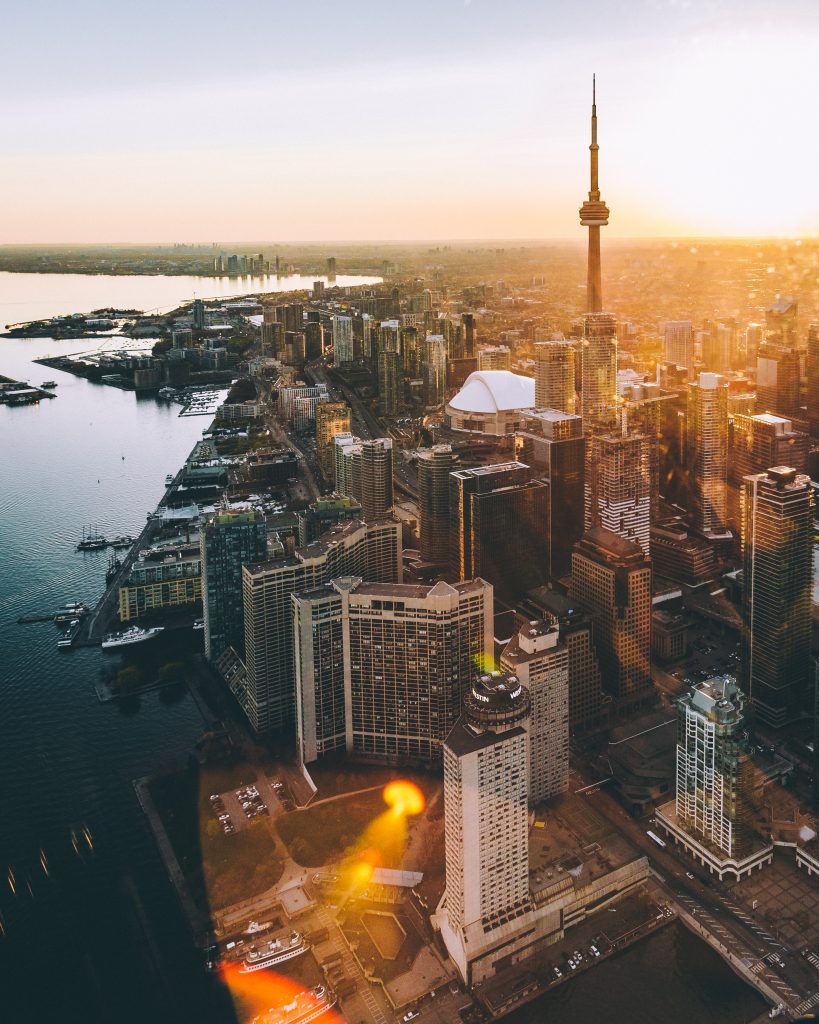 The most cultural and cosmopolitan city in the province of Ontario, Toronto engages tourists with its relaxed, vividly beautiful and fun places. The city's stunning views may draw you in, but its bustling neighborhoods, creative events, and friendly inhabitants will keep you coming back. Toronto is very pedestrian-friendly so if you're willing to enjoy the sights of this city, you might as well visit the Good Space in which you can stretch your body into meeting yoga positions.
You will definitely get a multicultural experience when visiting bits of Dundas Street West and College Street since they contain Japanese vibes. As a matter of fact, Toronto has over 200 ethnic groups within itself and its people speak over 140 languages, so if you're keen on diversity do not hesitate to stroll around the capital of Ontario.
Things to do: Visit CN Tower, Art Gallery of Ontario, Harbourfront Centre, Rogers Centre, Toronto Islands.
Vancouver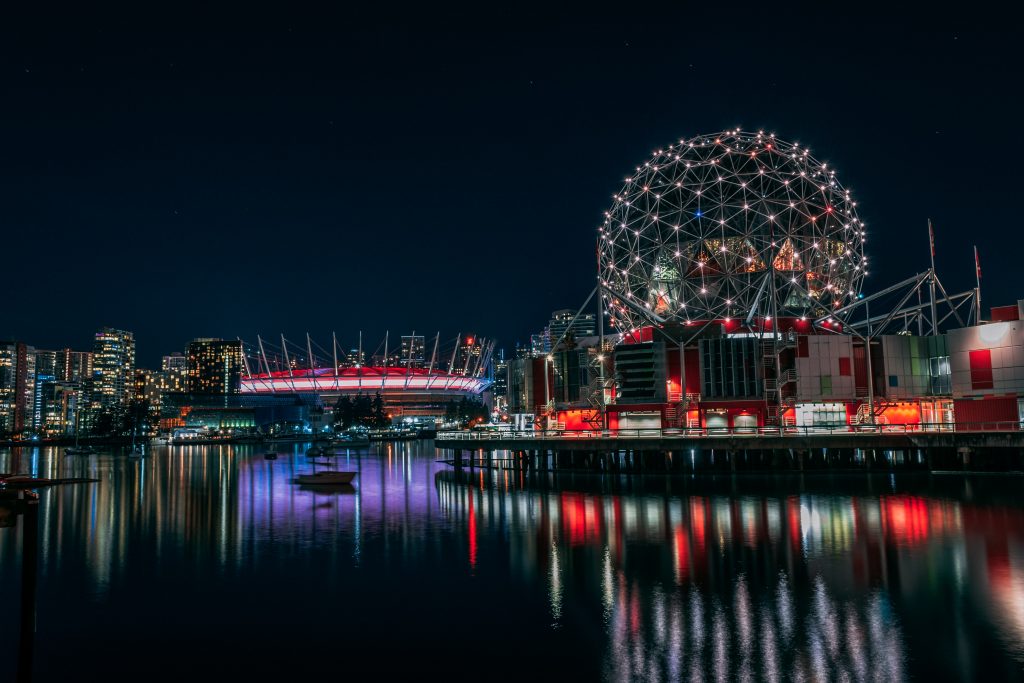 Visitors can easily understand why Vancouver is frequently recognized as one of the world's most livable cities. There are many attractive places to see and explore. Stanley Park, one of North America's largest urban parks in which you have lots to see, including its beaches, lagoon, and lake, all of which provide breathtaking views from every direction. The city's mountains and coastline provide an outdoor playground for hiking, skiing, kayaking, cycling, and sailing, among other activities.
The landscaping in Vancouver contributes to the city's walkability. In the spring, tulips and daffodils overflow flowerbeds, while sea breezes spread perfumed cherry blossoms across Downtown. A trip to Vancouver isn't complete for shoppers unless they visit the stores at British Columbia's largest mall.
Things to do: Visit Museum of Anthropology, Vancouver Aquarium, Grouse Mountain, Capilano Suspension Bridge, Lynn Canyon Park, Kitsilano Beach, Bill Reid Gallery, Stanley Park Seawall.
Quebec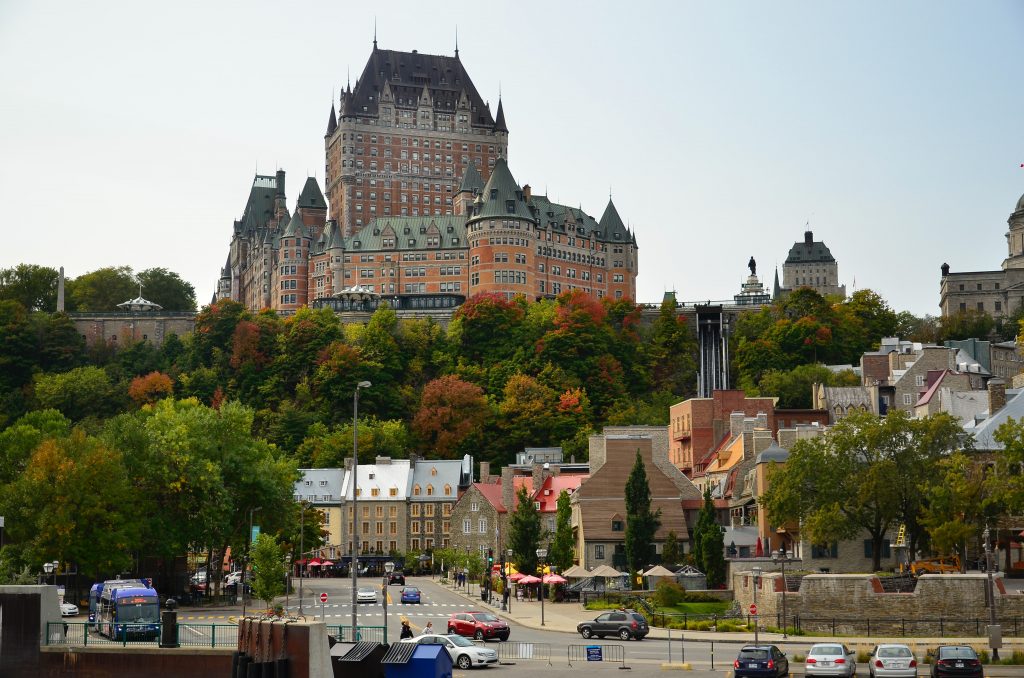 Sitting on the Saint Lawrence River in the French-speaking Québec province, Québec city has a rich history, tons of places to explore and tasteful cuisine. The Old City, which is recognized as an official UNESCO World Heritage site, is a must-see destination, the Fairmont Château Frontenac, set on the highest point in Upper Town makes the most of this province. The magnificent Château Frontenac, which overlooks Québec City and can be seen from miles away, is the most famous building in the provincial capital.
The hotel was built in 1894 by the Canadian Pacific Railway and continues to welcome visitors from all over the world in one of the most beautiful locations available.
Things to do: Visit Musée de la Civilisation, Musée National des Beaux-Art, Plains of Abraham, Place Royale, La Citadelle, Fairmont Le Château Frontenac, Jardin des Gouverneurs, Maison J.A. Moisan.
Montreal
Montréal is a city on an island that values flair and elegance over order and even wealth—a city where the past and present coexist. Within its network of tiny, cobblestone alleys, Old Montréal houses museums, the municipal government, and the beautiful Basilique Notre-Dame-de-Montréal, so there is no lie that the city of Montreal has a rich culture. A visit to the massive La Ronde Amusement Park, which provides a variety of kiddie and thrill rides for all ages, as well as entertainment and activities, is the most popular activity to do with kids.
During winter times the ski area Mont Sainte-Anne offers some of the best winter sports. Montreal Botanical Gardens is a natural beauty with both outdoor and greenhouse gardens, and frankly, your eyes are about to restfully enjoy the garden.
Things to do: Visit Mont-Royal, Old Montreal/Vieux-Montreal, Jardin Botanique/Botanical Garden, Notre-Dame Basilica, Oratoire Saint-Joseph, Parc Jean Drapeau, Musée des Beaux Arts.
Popular Attractions and Landmarks
If you are a museumgoer Canada is the best place to let you experience all types of museums, including the most recent type of museums where you can observe artifacts and other components of a museum with 3D glasses.
Some of the most famous and fascinating museums in Canada are:
Canadian Museum of History
Canadian Museum of Nature
Royal Ontario Museum
Canadian Museum for Human Rights
Canada Aviation and Space Museum
To get a better view of nature, waterfalls are a very good option for an interesting holiday experience. Some of the best waterfalls in Canada are:
Niagara Falls
Helmcken Falls
Panther Falls
Nistowiak Falls
Crescent Falls
If you enjoy nature and want to have pictures with a stunning view in your background, visiting national parks in Canada is a must. Some of these parks are:
Banff National Park
Pacific Rim National Park Reserve
Fundy National Park
Waterton Lakes National Park
Kluane National Park
Accommodation Options: Where to Stay?
Not sure what are the kinds of lodging to pick as a tourist in Canada? Well consider the following four types of accommodation before moving to Canada, and surely one of them will meet your expectations.
Hostels
This is the most frequent type of accommodation among tourists from all over the world, and as a matter of fact Canada offers an abundance of hostels across every place in Canada. Hostels, on the whole, are clean, safe, and inexpensive places to stay. Adult nightly rates range from $15.00 to $45.00, with the most typical rates falling between $20.00 and $30.00.
Bed and Breakfasts
The accommodations are modest but pleasant, and the experience generally includes friendly hosts and a hearty breakfast each morning. B&Bs, or small family-run lodging, may be found all across the nation in large cities, small villages, and popular rural areas.
Camping
Because Canada is such an outdoorsy nation, there are many campgrounds that provide low-cost tent sites and modest cottages. You may also locate enormous campsites on the outskirts of major cities where you can stay for a low price and commute into the city each day to view the attractions. Tent sites range in price from free to more than $50 per night at Canada's most popular campsites, which are fully maintained and may even provide educational activities. The cost of a night's stay will vary depending on where you camp and any onsite services you desire.
Hotels
High-end hotels, ordinary city hotels, and wayside motels are the three types of hotels found in Canada. In cities, the focus is frequently on business travelers rather than tourists. Top-tier hotels price anything from $150 to $500 per night, however in most cases, $250 will buy you a reasonably comfortable double room. The advantage of this sort of lodging is that you usually know what you're going to get: a clean, comfortable, and contemporary room with a reasonable range of amenities both in the room and on the premises.
Typical Costs: How Much Does a Trip to Canada Cost?
A crucial part of holiday preparation is determining how much money to save aside for your trip to Canada. You want to spend your money wisely so that you may have the finest Canada trip possible. Considering the fact that Canada is the second-largest country in the world, a tourist has a lot to see and experience, so a plan is more than necessary. Planning is a comprehensive term, we have to be more specific about what we should plan. Well start by planning your finances, the clothes you'll use, the places you want to visit and pin them on your map.
The average budget you need, depending on the category you fall into, includes:
| | | | |
| --- | --- | --- | --- |
| Time/Budget | Solo Budget | Couple Budget | Family Budget |
| One Night | CA$ 185 | CA$ 228 | CA$ 456 |
| One Week | CA$ 1,200 | CA$ 2,400 | CA$ 4,800 |
| One Month | CA$ 5,595 | CA$ 11,180 | CA$ 24,400 |
Money-Saving Tips: Is It Possible to Make This a Budget-Friendly Trip?
We all need guidance on saving money, don't we? Well, going on a trip can get exciting and electrifying but that doesn't mean that you have to spend all of your savings. While traveling you can unconsciously lose track of money and end up spending more than you planned to. Therefore, before jumping into your destination, take a look at some tips on how to save money and still enjoy your experience to the fullest.
Travel Offseason
Traveling in Canada during that time of the year when there are as few tourists as possible will save you a lot of money. Commonly, the off-season in Canada includes two seasons, spring to fall. There aren't a lot of people and it can get comfortable, most importantly prices drop drastically. More directly, the most optimal time to visit Canada is in the fall season, from September to November.
Book Accommodation in Peripheral Areas
It is always a good idea to look for accommodation outside of the city center, you will definitely pay less and save money. You may generally get a better nightly cost in less congested or popular locations while still being near to all the things that large cities have to offer.
Cook Your Own Meals
If you're thinking of traveling and still saving money, then you have to consider how much you would have to spend on food. A meal in a restaurant can cost you around CA$20, which is why, during your travels, bringing fast snacks or going to the grocery store for self-prepared meals will always add up positively to your budget.
Track Flights and Prices
You always have to keep an eye on plane tickets, bus tickets, or other whatnots, because you don't always have to pay the full price. Track the flight deals, book them when they are cheap, search for airports other than your final destination. Might as well take a look at the price of train or bus tickets, in this way your pocket will be sufficiently filled.
Health Insurance
As with any other country where you go and are obliged to have health insurance for essential health benefits, Canada is no exception in requiring this. To better enjoy your vacation and to feel much safer during your trips, it is much more preferable to purchase a health insurance policy.
How to Get Around?
Regarding the availability of transportation in Canada, tourists can get around by bus, train, car, ferry, taxis and airplane.
Air Travel
Tourists may fly with three national airlines: Air Canada and WestJet, which are primarily domestic, and Air Transat, which is mostly international. Flights inside Canada are famously costly, with the average domestic trip costing at least $300, plus airport fees and taxes of around $40. Flights to northern Canada, and especially flights inside northern Canada, are highly expensive, typically costing a thousand dollars or more, and visitors must utilize a special northern airline or a chartered airplane to reach certain isolated locations. Each major city of Canada, as well as many smaller towns, have their own international airport. There are also a number of much smaller regional ones that serve just flights between Canadian cities.
Train Travel
VIA Rail is Canada's principal passenger rail service, with lines connecting Vancouver and Toronto, Toronto and Montreal, and Montreal and Atlantic Canada, as well as stops in all major cities along the way. It is more than satisfying to travel around places at a modest pace and enjoy the view of each city. The axis of Toronto, Ottawa, and Montreal is a popular route for travelers. A four-day train journey across Canada from one end to the other will cost between $500 and $800. The VIA Rail stations in Vancouver, Toronto, and Montreal also offer Amtrak connections to the United States. In addition, many provinces have limited train service to some of their most distant districts. For those willing to pay, Royal Canadian Pacific offers cruise-like luxury train trips.
Bus Travel
Buses are the most cost-effective mode of transportation between Canadian cities, as they are significantly less expensive than similar rail and aircraft travels. The average cost of a bus ticket in Canada is around $356. Tickets can cost as little as CA$1.25 or as much as CA$11,100 depending on whether you're traveling locally or long-distance. Single TTC transit trips cost CA$3.25, but if you want to use public transportation on a regular basis, it's a good idea to get a day- or week-long pass. Day admissions are CA$12.50 and weekly passes are around CA$44. Greyhound Canada and Megabus are the most well-known bus companies in Canada. Greyhound Bus is the bus business that delivers the most extensive routes across the whole country. Greyhound Bus also offers connecting services between the continental United States and Canada.
When to Go?
Depending on the tourist's preference, Canada can be toured at any time of the year. Arguably, the best time to enjoy the beauty of Canadian provinces and territories is during the fall season. The weather is quite chilly, the autumn leaf colors are outstandingly eye-catchy and the number of activities along with festivals all add up to an amazing experience in Canada.
If you enjoy winter activities:
There is no such thing as a poor time to visit Canada. As we said at the beginning, it all depends on the preferences of a tourist. For example, if you want to enjoy winter activities such as skating and skiing, you should visit Canada in the winter. You may also see the Northern Lights, experience the Quebec Winter Carnival, or even the Niagara Falls Winter Festival of Lights. The fact that it's chilly doesn't negate the fact that winter is the ideal season to visit Canada.
If you enjoy the peak season:
For those who like the peak season, which means the months of July and August, then summer is definitely the time to visit Canada. If you happen to arrive on the first of July, Canada Day will be filled with a lot of patriotic festivities and many fireworks. Show off your cowboy skills at the Calgary Stampede and continue to enjoy other summer activities during the month of August by taking part at the Edmonton Folk Festival
Famous Canadian Dishes: Foods to Try
If you want to enjoy some delicious foods in Canada you will have plenty of choices. There is a variety of food provided in many locations in Canada. Some of the most famous traditional foods in Canada are:
Poutine
Smoked Meat
Tourtière
Calgary Beef
Fiddleheads
Peameal Bacon
Salmon
Maple Syrup
How to Stay Safe?
Despite the fact that Canada is a heavenly safe country, there are some parameters one should take in order to enjoy the stay. Maybe a little extra information on the security level of Canada won't hurt anybody. The crime rates in the country really do touch the ground, so take the seat on the back and enjoy the ride.
Some safety tips to keep in mind while travelling to Canada:
Walk Mindfully
If you're taking a tour of the city, it's essential to be mindful of who's around you and what's going on. There may be locations where natives are more likely to pickpocket foreigners, so it's always a good idea to consult the internet or ask friends which routes are safer than others. During the night, always stroll on wider, well-lit streets and, if feasible, only go with someone you trust in risky regions. Again, Canada is a reasonably secure country, so going for a stroll should not be a problem.
Lock Your Apartment
No matter how far or near you are going from your apartment, do not leave the door open. If you know that your neighbours are a potential threat make sure you have checked every window, even the smallest one upon leaving your place. If someone you weren't expecting rings your door then prior to opening the door it is good to look through the peephole and check if you know that person, in case you don't then it is better if you do not put yourself at risk by opening the door.
Emergency Number
The most basic thing one can do for safety is to register the emergency number. You can contact emergency services at 911 if you fall into difficulties as a result of an unfortunate incident or witness a crime. No worries if your mother tongue language isn't English because there are interpreters who will comprehend your concern. This number serves as a hub for police, fire, and ambulance communications. Maybe there isn't a high chance of making use of it, but you should have it just in case.
How to Book This Trip?
You can book your trip to Canada using the following resources:
Skyscanner. Skyscanner is a fantastic flight search engine that searches a wide range of airlines, hotel, and car rental, including several low-cost carriers that larger sites overlook.
Hostelworld. With the greatest inventory, the finest search interface, and the most availability, this is the best hostel accomodation site available.
Booking.com. Booking.com is a well-known travel firm that allows customers to make bookings and pay for a variety of travel products. When it comes to tourist preferences, Booking.com is at the top of the list.
Intrepid Travel. Intrepid Travel is the place to go if you want to embark on a group trip to Canada. They provide excellent small-group excursions that use local guides and have a low environmental impact. If you're going on a tour with someone, you should go with them.
Airbnb. Airbnb is a wonderful option for interacting with homeowners that rent out their houses or flats. There are a lot of postings in the larger cities.
Momondo. Momondo is a wonderful website where you can search for flights, hostels, car rentals, and package vacations. It is a travel fare aggregation service. It is one of a kind.
Priceline. This is by far the greatest site to bid on hotels and save a significant amount of money over booking directly. When utilized in combination with the auction site Better Bidding, you may save up to 60% on hotel costs.
Packing List and Essentials
Taking off to Canada requires a lot of preparation and frankly, this preparation has to do a lot with what are some of the essentials every tourist needs to carry in their backpack.
In your backpack:
Passport and Valid ID or Driver's License
Travel Insurance
Electronic Travel Authorization
Tickets
Book to Read
Pen
Medication
Phone and Accessories
Wallet
Hygiene Kit
Backpack
Water Bottle
Snacks
Tooth and Paste
Deodorant
Tissues
Hand Sanitizer
Medkit
Adhesive Bandages
Painkillers
Thermometer
Sunscreen
Gauze
Small Scissors
In case you are planning to travel to Canada during summer time then you should consider these items in order to withstand 35°C temperatures throughout Canada.
Hat
Sunglasses
Underwear
Socks or Hiking Socks
Short-Sleeve Shirts
Hiking Shorts
Hiking Boots or Hiking Shoes
Jacket, Sweater, or Sweatshirt
Towel
Flip-Flops
Bathing Suit
On the other hand, Canada is a wonderful country to visit during winter. If you're willing to explore it in the freezing cold, then might as well pack some things that will be needed.
Gloves
Scarf
Hat
Winter Jacket
Winter Pants
Thermal Underwear
Long-Sleeve Shirts
Snow Boots
Wool Socks
Sweatshirt
Waterproof Jacket and Pants
Moisturizer
Sunglasses
Fun Facts About Canada
The world's oldest pools are found in a Canada mine with its location around two miles underground in Timmins, Ontario. Scientists have discovered in the year 2016 that these pools are actually two billion years old. Canada's population eats 1-billion donuts annually which makes Canada the number 1 donut consumer in the world. Another interesting, yet funny fact is that smelling bad in Canada is considered illegal. If you smell bad in a public space you could face two years in jail, isn't it weird?! Well it is pretty normal to Canadian people!